JOINT PAIN SUCCESS STORY #119
SUSHI THE FRENCH BULLDOG, AGE 10 | HIP & JOINT PAIN
Testimonial by Tiffany Lee,/ Long-Time Customer / New York, NY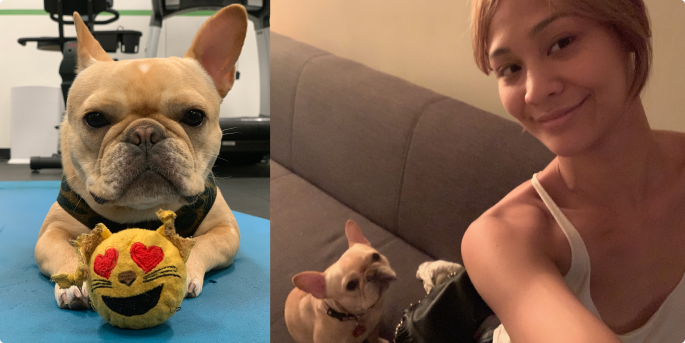 This is the real story of Sushi ( @every1lovessushi ), and her road to recovery from crippling joint pain and low energy.
Hi! My name is Tiffany, and this is my sweet French bulldog, Sushi (Uni), who lives with me and her daddy, Richie in New York City. Despite her goofy, glum expression, she is comical, dependable and super friendly to everyone she meets. As comfortable as she is at home, she has always been more lively than you would expect from her chunky appearance...or at least she was. As a puppy, she was especially frisky and loved going on walks, chasing balls and playing with her toys.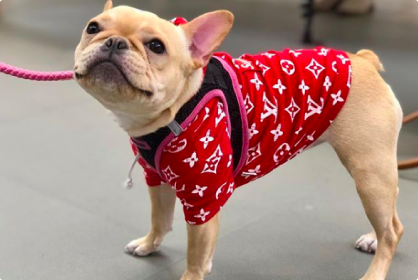 And she is always fashionable! #doggievuitton
...But not long ago, we began to notice a change in her gait and personality. She was struggling to walk at times, and climbing stairs seemed to be especially difficult. It wasn't until we realized she couldn't even jump up onto our bed at night that we realized something was wrong.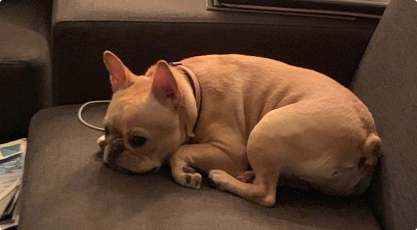 Sushi, not feeling like her usual, playful self. So heartbreaking.
What We Learned
We took her to our vet who explained to us that our poor Sushi was experiencing early symptoms of canine arthritis and was likely in pain. We were told that French bulldogs are deliberately bred with structural deformities that actually detract from the dog's quality of life. Frenchies are especially prone to suffering from spinal disorders, arthritis and joint problems. This was what was happening to our baby. We were devastated to find out our dog was in pain, and set upon doing research for remedies, and cures to help alleviate her pain.
We tried everything from:

Diet Changes
Exercise
Orthopedic Dog Beds
Massages
Dog Acupuncture
Nothing worked. We tried almost every supplement, pill, powder we could find which was especially difficult as Sushi is already a picky eater and apprehensive to trying new foods or treats.
Then A Miracle Happened
While visiting a fellow pet-owner friend and her 8 year old German Shepard, Buddy. I disheartenedly explained Sushi's current, painful predicament. She immediately jumped up, and got a bottle of G-Max Joint Support and excitedly began telling me her story. She explained that about a year ago, she had begun to notice a significant change in Buddy's personality and energy. After scouring the internet and pet stores, she discovered G-Max Joint Support, which she began giving to Buddy every morning. Within weeks, she saw results, as Buddy was back to being as spry and active as he had been as a puppy!
We went to the website and learned that G-Max is a dietary supplement which can help improve dog health and mobility - with CLINICALLY PROVEN ingredients (read more about the clinical findings here). Not only that but they are bacon-flavored soft chews (like an actual doggy treat) that dogs actually enjoy which eliminated the need to have to hide them in her food or force her to eat them. At this point, I had lost much hope in seeing any change or results, but figured we had nothing to lose.
We ordered the bottle, and fed her a tablet. Surprisingly, she gobbled it right up!
She's Back!
About two weeks after we began giving her the soft chews, I came home to Sushi excitedly running to greet me, even more so, she was jumping up on the couch to play with me and her toys! I was dumbfounded. But thrilled to see her back to her old self!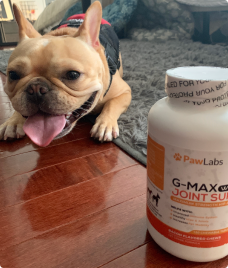 We excitedly shared our news with our vet, and all our pet owner friends. Bethany was also thrilled, but not surprised. She had done extensive research on the supplements from its parent company, PawLabs. Their website explains how the tablets are formulated to help:
IMPROVE DOG JOINT HEALTH
ENHANCE MOBILITY
RELIEVE DOG JOINT PAIN
INCREASE FLEXIBILITY
PROMOTE CARTILAGE REGENERATION
Read more about the clinical findings here.
As a pet owner and dog mom, these supplements were a god-send. Ever since she starting taking these, Sushi has been as active, happy and mobile as ever---if not more! Not only that, but she loves these (she thinks they are treats!)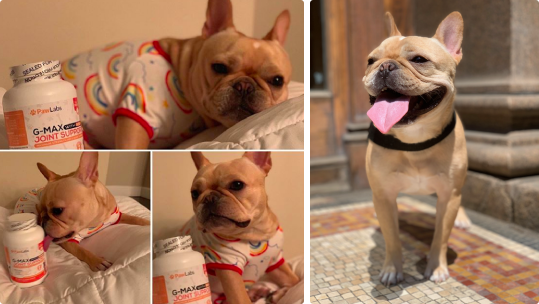 Thanks to Pawlabs, Sushi is back to her playful, active and diva self! :D
We are so grateful we discovered these tablets and sincerely hope that our journey (story) helps you and your furry friends.
Sushi saw results in as little as 2 weeks!
ORDER G-MAX JOINT SUPPORT NOW!
Disclaimer: Individual results may vary. The text on this website is for informational purposes only and should not be used in substitute for the advice of a veterinarian or other medical professional. All statements, opinions, and information on this website have not been evaluated by the Food and Drug Administration.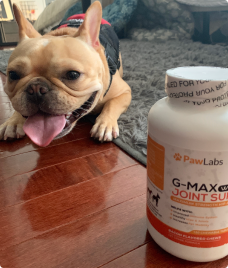 Our playful Sushi is back! And loves her miracle tablets!
Clinical Studies
Clinical Findings #1